STEVIA
Common Name: Stevia
Botanical Name: Stevia Rebaudiana, Rebaudioside A, Bertoni
Growing Region: Paraguay, China, Peru, Brazil
PRODUCTS:
RebPure™ RA99, RA98, RA97 and RA95
RebSweet™ RA80
AnySweetPLUS™ RA60+ and RA50+
Organipure™ Org. RA97 and Org. RA80
BlendSure™ BS 7.5
PureSTV™ STV97 and STV95
TasteBoost™ EMS95 and EMS90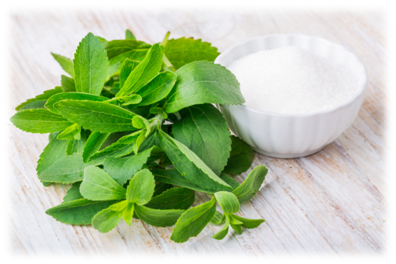 BACKGROUND:
The sugar substitute is extracted from the stevia plant. A species called Stevia rebaudiana is naturally grown in Brazil and Paraguay, where it has been used for hundreds of years to sweeten foods. The plant gets its sweetness from naturally occurring glycosides, which are extracted from the stevia leaves through a process that starts by placing the plant in hot water.
Over the past 15 years, GLG's agricultural expertise has produced a number of the most desirable stevia leaf varieties in the world. These plants offer increased disease resistance, significantly larger-leaves, and a higher percentage of prefered steviol glycosides; all through GLG's strategic non-genetically modified agriculture program.
• Enhances sweetness and flavor in various applications
• Can be labeled as a natural flavor
• Offers well-rounded sucrose-like sweetness
• Compliant with JECFA standard
• Tabletop sweeteners
• Carbonated beverages
• Sports, juice and energy drinks
• Dietary supplements