Unparalleled Taste Profile – High-Purity Reb M Extract
GLG aims to revolutionize the global food and beverage industry by providing companies with the ability to replace sugars and artificial sweeteners with naturally-sourced and/or bioconverted Rebaudioside M and Rebaudioside D.
Sugar-like Solutions
This next generation stevia product line facilitates sugar replacement with better-tasting, zero-calorie natural sweetening systems and solutions that provide a sugar-like sensory experience for our customers who are seeking improved taste, greater calorie and added sugar reduction, and clean label solutions for their latest food and beverage innovations.
Benefits and Features
Reb M and Reb D, two of several steviol glycosides found in the stevia plant, are highly desired in the industry as natural, zero-calorie sweeteners, ones that very closely resembles sugar.
Natural, zero-calorie sweeteners
Zero glycemic index (GI)
Non-GMO Project Verified
Effective across several food and beverage applications
FDA GRAS No. 512 (Reb M) & FDA GRAS No. 548 (Reb D)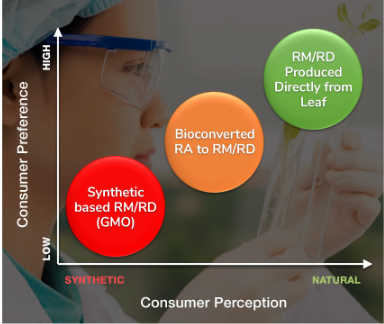 Consumer Preference and Manufacturing Methods
These products provide a clean and full-bodied sweetness experience that is remarkably close to sugar, allowing for deeper calorie reduction through reduced sugar formulations. With their sucrose-like sweetness, Reb M and Reb D enable formulators to reduce sugar more than ever before and provide the end consumer with better-tasting healthier choices.
Sensory and Organoleptic Profile
Whether used by themselves or combined in a sweetener or flavor system, Reb M and Reb D work well across all food and beverage applications without bitterness, astringent notes, or overly lingering sweetness previously associated with other stevia ingredients.